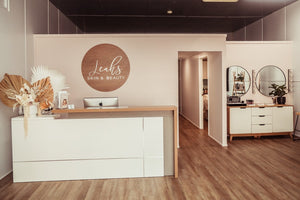 Welcome to Leahs Skin & Beauty - not just a salon, but a sanctuary. Nestled in the heart of Gayndah, Queensland, we've brought the big city's most luxurious beauty treatments right to your doorstep. 
Since 2009, we've transformed from a humble home salon into Gayndah's ultimate beauty destination. Here, you can leave reality at the door, immersing yourself in the tranquillity and relaxation that our spacious salon offers. 
Leahs Skin & Beauty is more than just a salon - we're on a mission. We believe that everyone, no matter where they live, should have access to the very best in beauty treatments and products. No more lengthy travel for your beauty needs - we've got you covered right here. 
And it's not just about beauty treatments. We're also champions of Australian-made beauty products, consistently expanding our range with the most incredible finds that we've fallen in love with and know you will too. 
At Leahs Skin & Beauty, beauty isn't just our job, it's our passion. It's our privilege to welcome you into our haven, where we're dedicated to making you look and feel your very best. The journey to the best you is just beginning - we can't wait to be a part of it
Leah Zahl
Owner, Beauty Therapist
GALLERY